General Aches & Pains
Sitting too much, sleeping the wrong way, a body can get kinked up by just living life. All the types of treatment we discussed for other injuries work very well for body pain you just can't categorize.
LOWER BACK PAIN
Lower back pain is one of the most common reasons why patients seek help from a chiropractor. Low back pain effects up to 56% of the population and is the most common cause of disability in US adults.
Lower Back Pain Causes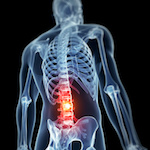 Frequently, lower back injuries are caused by a misalignment of the facet joints in the low back. This results in muscle spasms and movement dysfunction which then results in significant pain and discomfort.
Lower back disc injuries are, unfortunately, becoming increasingly common. Most of us spend a considerable time sitting which causes viscoelastic creep (stretching out) of the posterior aspect of our disc. This weakens the structure. When we go from prolonged sitting to movement without proper stretching and warming up, our nucleus pulposa (the center of your disc) pushes into this weakened structure causing a disc injury. This is why most disc injuries come from relatively small things (i.e. I bent down to pick up my suitcase after my flight to Hawaii and I now I have excruciating low back pain).
Lower Back Pain Treatment: Research Proves Chiropractic Care is the Best
Recent research published in the Journal of the American Medical Association showed that chiropractic manipulation was more effective then medication in reducing low back pain and increasing function in day to day activities. Research has also indicated that chiropractic care and functional rehabilitation, over a five month span has proven to be as successful as microdiscectomy in the management of most disc injuries.
Head 2 Toe Spine & Sports Therapy approaches lower back pain with individually managed soft tissue mobilization, chiropractic care, and functional rehabilitation. Make an appointment today and get the care you need.
NECK PAIN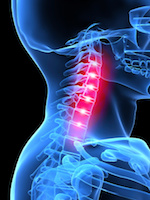 What causes neck pain? Neck pain is very common in today's society. Most neck pain is caused by tight muscles due to poor posture.
Most of us sit at a desk all day without correct sitting mechanics or a properly designed work station. As a result we get tight, achy muscles in our upper back and necks which can cause a misalignment along the facet joints of the spine. This misalignment can cause muscles to spasm and guard in the neck, making the pain even worse. Poor posture is one of the many causes of neck pain, but there is a way to get relief.
How to get Neck Pain Relief
Only by combining gentle chiropractic care with soft tissue mobilization and stretching and strengthening the neck and thoracic spine will your pain go away and stay away. At Head 2 Toe Spine & Sports Therapy, we will also teach you how to sit properly and how to transition from sitting all day to working out. We will also help you design your workstation so that you can stay healthy.
HEADACHES
Causes of Muscle Tension Headaches
Misalignment of the facet joints in the cervical spine and tight muscles from emotional stress or poor posture interfere with the sensitive nerve fibers at the base of the scull. This causes both a vascular response and a pain response, contributing to migraine and tension headaches.
Chiropractic and Soft Tissue Mobilization for Headaches
Chiropractic care is effective in relieving muscle tension and migraine headaches by treating the source of the problem. Gentle chiropractic manipulation and soft tissue therapy reduces the body's pain signals and not only relieves the headache, but is preventative for future headaches.
Unfortunately, many people are not aware that gentle chiropractic care and soft tissue mobilization are successful and effective ways to make the pain go away. Remember, not all chiropractic treatment involves 'cracking your neck'. People will avoid chiropractors because they are scared of this protocol. There are more gentle ways of resolving spinal misalignment that are very successful, especially in combination with soft tissue therapy.
Get relief and make your appointment today. We want to get to the root of your headaches and migraines.
PAIN MANAGEMENT
Natural Pain Management with Soft Tissue Mobilization, Chiropractic and Functional Rehabilitation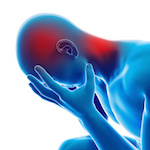 Pain, as we know, can have an overwhelming and very negative effect on your life. Many of us have some level of pain with us all of the time. Working to reduce pain and really achieve pain management involves a multifaceted approach which generally includes diet modification to reduce inflammation, gentle chiropractic care, soft tissue work and careful active rehabilitation to encourage your body to function properly again.
It is important to remember that you do not have to live in pain. Pain is a signal from your body that something is wrong. Our job at Head 2 Toe Spine & Sports Therapy is to help you figure out what is generating your pain, and then work with you to fix it. At Head 2 Toe Spine & Sports Therapy we taking pride in working with people to get their lives back and stamp out the cycle of chronic pain.
We look forward to working with you to achieve a pain free life. Make your appointment and start today!
Request Information
Chiropractic
Soft Tissue Mobilization
Functional Rehabilitation